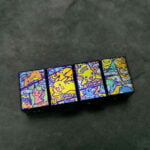 Pokemon Adventure Pendant 1st generation
Pokemon Adventure Pendant 1st generation
$69.00
Pokémon Adventure Pendant, made of titanium alloy, has four different picture patterns.
Material: titanium alloy TC4.
Specifications: The diameter of the middle hole is 6mm, the length is 14mm, the width is 14mm, and the height is 20mm.
Theme: Pokémon 1 generation.
Process: Anodized tempera process, surrounded by no repeated patterns.