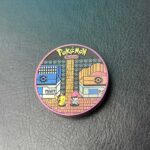 Pokemon Titanium Alloy Painting Version Fidget Haptic Coin
Pokemon Titanium Alloy Painting Version Fidget Haptic Coin
$150.00
Our latest version of Pokémon titanium alloy painting version fidget haptic coin is finally online, made of titanium alloy, the surface is treated with titanium color process, which can keep the color for a long time. Bright color combination, no longer the primary color metal.
Material: titanium alloy
Process: anodized titanium color
Production cycle: 2-3 weeks
Note: This product is not in stock. When you place an order, we will enter the production stage. After placing the order, you can apply for a refund within 24 hours. After 24 hours, we will no longer accept refunds.