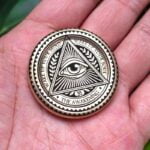 Eye of God Haptic Coin Brass Edition
Eye of God Haptic Coin Brass Edition
$155.00
The newly designed milk cap PPB fingertip decompresses the haptic coin. It is made of brass, and the theme of the eye of God is engraved on the surface, showing a three-dimensional effect and adding limit magnets.
Diameter: 39mm
Thickness: 10mm
Weight: 80g
Craft: Brass engraving
In addition, stainless steel, red copper, cupronickel, titanium alloy and zirconium alloy are optional, you can contact us for customization.
For customized products, after placing the order, the engraver will complete the production within a week, and the delivery time will take about 2 weeks. And for custom products we do not accept refunds.