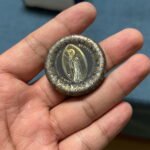 Constantine 2nd Generation Haptic Coin Titanium Edition
Constantine 2nd Generation Haptic Coin Titanium Edition
$158.00
Constantine 2nd Generation Haptic Coin Titanium Edition
The lightweight titanium alloy material is selected to engrave the theme of the second generation of Constantine, and limit magnets are added to prevent disintegration.
Diameter: 39mm
Thickness: 10mm
Weight: 45g
Process: Titanium alloy
For customized products, after placing the order, the engraver will complete the production within a week, and the delivery time will take about 2 weeks. And for custom products we do not accept refunds.