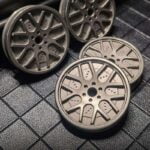 Haptic Coin Matrix EDC Titanium Alloy
Haptic Coin Matrix EDC Titanium Alloy
$100.00
This Haptic coin is made of titanium alloy and its design is inspired by the shape of the wheels of a sports car. Magnetic levitation is also used here.
Diameter: 45mm
Thickness: 10mm
Weight: 45g
Material: titanium alloy
Surface treatment: Stone wash
Our suppliers are all over the world, and the shipments usually come from different countries. It will be mailed to you by Epacket.
All products do not require additional shipping costs, we deliver them to you free of charge, and support a 30-day return policy.
6 in stock