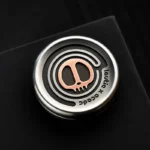 Haptic Coin Devil Milk Cover Stainless steel
Haptic Coin Devil Milk Cover Stainless steel
$160.00
The joint model, the main material is made of stainless steel, and the demon head in the middle is made of copper.
Haptic Coin
Diameter: 34mm
Thickness: 8.7mm
Weight: 45.7g
Material: Stainless steel
Surface treatment: Polished
Our suppliers are all over the world, and the shipments usually come from different countries. It will be mailed to you by Epacket.
All products do not require additional shipping costs, we deliver them to you free of charge, and support a 30-day return policy.
68 in stock
Using lightweight ideas, a haptic coin smaller than the milk cap size was created.