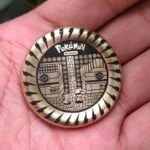 Pokemon Haptic Coin Brass Edition
Pokemon Haptic Coin Brass Edition
$158.00
The Pokemon haptic coin brass theme comes from a great game released by Nintendo, the Pokemon series is the second best-selling series of video games in the world, after Nintendo's Super Mario series.
The haptic coin is made of brass, which develops a unique color over time.
For customized products, after placing the order, the engraver will complete the production within a week, and the delivery time will take about 2 weeks. And we do not accept refunds for custom products.
Diameter: 39mm
Thickness: 10mm
Weight: 80g
In addition, stainless steel, red copper, cupronickel, titanium alloy and zirconium alloy are optional, you can contact us for customization.