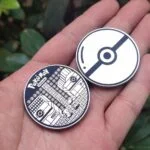 Brass Pokemon Haptic Coin
Sale!
Brass Pokemon Haptic Coin
$75.00 – $130.00
-35%
We have upgraded the engraving process and increased the engraving depth, now you can have two different engraving processes.
This Pokemon-themed haptic fidget coin has a crisp, depressing sound. The materials are copper, stainless steel, titanium alloy, zirconium alloy.
For customized products, after placing the order, the engraver will complete the production within a week, and the delivery time will take about 2 weeks. And for custom products we do not accept refunds.
Additional information
Material

:

No selection

Zirconium Alloy, Brass, Cupronickel, Stainless steel, Titanium alloy

Style

:

No selection

Deep Engraving, Shallow Engraving