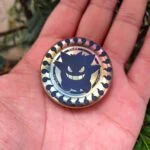 Pokemon Gengar Fidget Slider Haptic Coin
Pokemon Gengar Fidget Slider Haptic Coin
$130.00
This is a Pokemon Gengar theme fidget slider haptic coin, made of titanium alloy. It feels great in the hand.
If you would like to customize your favorite Pokémon pattern, please contact us by email, contact@rotaclicks.com
For customized products, after the order is placed, the engraver will complete the production within one week, and the delivery time will take about 2-3 weeks. For custom products, we do not accept refunds.